The Henderson Area Arts Alliance has a new Executive Director, Greg Gibson from Henderson, Kentucky.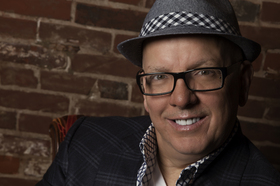 Gibson became the interim director for the Henderson Area Arts Alliance in early January of this year, after former director Kyle Arnett resigned to become Executive Director of the Henderson County Tourist Commission.
During the short five months as interim director, Gibson has worn many hats and has a strong grasp on what it takes to be an exceptional executive director and to continue to grow the arts in Henderson County.
"Henderson is home for me, and I am passionate about both the arts and Henderson. As the executive director I have many goals and visions and to not only make our community a place for kids and adults to further their entertainment opportunities, but to make Henderson a place where people from all over the world come to visit, experience and explore the arts," said Gibson.
Gibson began his career as a Walt Disney World "Imagineer" in the 1980's, then as Senior Project Designer and Vice President of Marketing for ITEC Productions, an entertainment design firm based in Orlando, Florida, engaging clients from all over the world by creating and producing sustainable themed entertainment projects to fit their needs.
Frequently self-labeled as a "producer" Greg has been involved with diverse productions, special events, a 3,000 square feet, $3 million dollar "Castle of Miracles" playhouse, live shows, parades, dark rides, theme parks & resorts and more than a dozen miniature golf courses.
Later in his career Gibson founded Gibson Entertainment Design Associates, a design-consulting firm which creates and implements a variety of leisure entertainment, family and themed pediatric healthcare environments for his clients. One of his biggest local accomplishments during his tenure was designing the implementation a 6,000 sf themed pediatric healthcare unit at the Center for Children on the main campus of St. Mary's Medical Hospital in Evansville, Indiana.
Truly rooting himself in Henderson, Gibson became the Program Director for BIG BROTHERS BIG SISTERS of Henderson County opening the agency's doors to the community in 2011. Here he successfully launched and managed a new satellite office by developing strategic partnerships and community relationships to support growing the new 501(c) 3 mentor matching program. He increased brand awareness, rallied community support and successfully matched more than 60 "littles" with their BIG mentors.
Graduating from the University of Cincinnati with a BS degree in Industrial Design from the College of Design, Architecture, Art & Planning, in addition to a Certificate in Business Administration, Gibson has earned numerous awards throughout his career which include being named a recipient of the "Young Professionals under 40 to Watch" by the Orlando Business Journal. He also received the Golden Brick Design Award for creating the Howard Phillips Center for Children from the Downtown Orlando Partnership, and he was presented with the My Giraffe Hero-Sticking Your Neck Out for Children from the Henderson County Collaborative Partners Advisory Council. Serving children and families in the Henderson community is paramount for Greg.
Community involvement is also a high priority for Gibson as he currently serves on the Henderson County Family YMCA Board of Directors, as well as the Downtown Henderson Partnership Board of Directors and the advisory board of River City Renaissance. In addition to serving on multiple boards, he was the event coordinator for the 2013 Sandy Lee Songfest Ellis Park event, a member of the Henderson Leadership Initiative Class of 2013, and has served as a Trustee and Deacon Chairperson for Community Baptist Church.
"Greg's previous professional resume & experience, his proven past performance in fundraising and grant-writing, along with his strong knowledge of and ties to the Henderson community (both on a business and a personal level) These skills, his work ethic and his passion for the arts, made him a great fit to be the next Executive Director of HAAA" says Tony Krampe, President, HAAA Board of Directors.
With the expertise and drive to see the Henderson Area Arts Alliance thrive, Gibson so far has helped with scheduling and promoting of the 2014-2015 season show lineups, met with numerous donors and corporate sponsors, and is continually building relationships in the community.
Gibson adds, "I want to see healthy partnerships and collaboration between arts organizations, schools, educators, festivals, businesses, artists, corporations and individuals so that together through the ARTS we create an even greater American River town! Henderson has so much to offer and be proud of so lets showcase our strengths and continue to build on our rich 20 year history and make the next decade for the Arts even better!"
For information about the Henderson Area Arts Alliance or to view the 2014-2015 season show lineups and to purchase tickets visit www.haaa.org or 270.826.5916
About Henderson Area Arts Alliance
Founded in 1993, the mission of Henderson Area Arts Alliance (HAAA) is to is to create a vibrant community by providing quality arts experiences for all. HAAA also seeks to enrich the quality of life in the area, promote economic development and tourism, educate and incorporate students in the arts and humanities, and provide a wide array of programming at affordable prices. A key objective for HAAA is to provide a full season of performing arts at the Henderson Fine Arts Center, a $6.5 million facility that opened in June 1994 and houses performing arts events and visual arts exhibits. HAAA strives to enrich its patrons with culture, entertainment, and exposure to new art forms. For more information on HAAA or for donation information, please visit www.haaa.org.